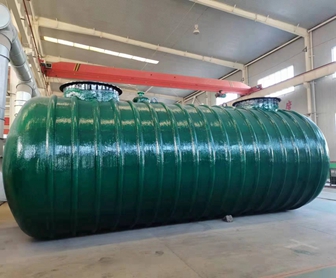 FF Double Wall Underground Fuel Containment Tank
Shandong Hongshun Fiberglass Co., Ltd. was founded in 1994 and is a large-scale high-tech enterprise that integrates the development, design, production, and service of composite material products. It mainly produces S-F and F-F double-wall oil tanks, fiberglass pipes, fiberglass storage tanks, and other fiberglass products, and undertakes insulation and anti-corrosion projects. The headquarters is located in the 12th Industrial Park of Shandong Jining High tech Zone, one of the national high-tech industry development zones, and has subsidiaries in Jiangsu, Inner Mongolia, Guangdong, Jiangxi and other places. The leadership team of the company is forward-looking, keeping up with the times, wholeheartedly relying on reform to develop the enterprise, and relying on technology to seek development. Over the past 20 years, the output value and profits and taxes of the enterprise have grown at a high rate of 20% per year, and have now developed into a composite material high-tech enterprise with an annual sales revenue of nearly hundreds of millions of yuan. Dozens of superior leaders have personally inspected and fully affirmed it. In 2008 and 2014, the company won the "Outstanding Enterprise Award for Technological Progress in Shandong Province", and was awarded the honorary titles of "Famous Brand Products in the Chinese Market", "exemplary organization without Complaints on Market Quality", "Enterprise Abiding by Contracts and Promises", etc. The company attaches great importance to technological innovation and has established a national enterprise technology (analysis) center, a national postdoctoral research workstation, and the first domestic S-F and F-F double wall oil tank full performance testing center; Passed multiple national and industry standards; Efficient operation of ISO9001, ISO14001, OHSAS18001 management systems; The "Hongshun" brand fiberglass pipeline has been awarded the title of "China Famous Brand Product"; And we have successfully introduced dozens of well-known high-end technology talents in the industry, providing a continuous technological source and inexhaustible driving force for the long-term development of the enterprise. The production scale of S-F and F-F double wall oil tanks ranks among the top in China and the first in East China. It has the ability to produce thousands of double wall oil tanks annually, with a volume ranging from 20 cubic meters to 100 cubic meters. There are over 30 models in 6 series, and the products are sold in bulk to various provinces and cities across the country, receiving high praise from customers. The company is the earliest supplier of large-diameter fiberglass pipes for environmental protection construction in China. It currently has 8 production lines for pipes and tanks. Through the introduction of advanced Japanese technology and equipment, it has successfully developed multiple series of products such as S-F and F-F double wall oil tanks, fiberglass pipes, fiberglass sand pipes, fiberglass storage tanks, etc., with 12 patents. A large number of double wall oil tanks have been sold to the Chinese petroleum and petrochemical industry, such as China National Petroleum Second Construction Corporation and Gansu Changqing Oilfield, Achieve unanimous recognition and high praise. The company currently has 360 employees and 53 technical personnel, including 33 with intermediate and senior professional titles. The production plant covers an area of 80000 square meters, with 22600 square meters of factory buildings, fixed assets of 180 million yuan, and working capital of 65 million yuan. In recent years, the company has placed great emphasis on the development of new products and the technical renovation of equipment, investing heavily in trial production and renovation. At present, the company has an annual production capacity of 12000 tons of fiberglass products. The main production processes include centrifugal casting, injection, spraying, automatic winding, etc. The products are designed with CAD computer-aided design, and the entire process of the leading products is monitored by computers. Integrating resources and serving construction "is our unwavering industrial philosophy, and" striving for excellence with all our hearts "is our unremitting work pursuit! Striving for innovation and strength, becoming a first-class production base for composite double-layer oil tanks in Asia as soon as possible, a leading domestic research and development and manufacturing enterprise for composite material products, a trustworthy high-quality supplier for customers, and a highly responsible enterprise for social civilization are our eternal goals of struggle !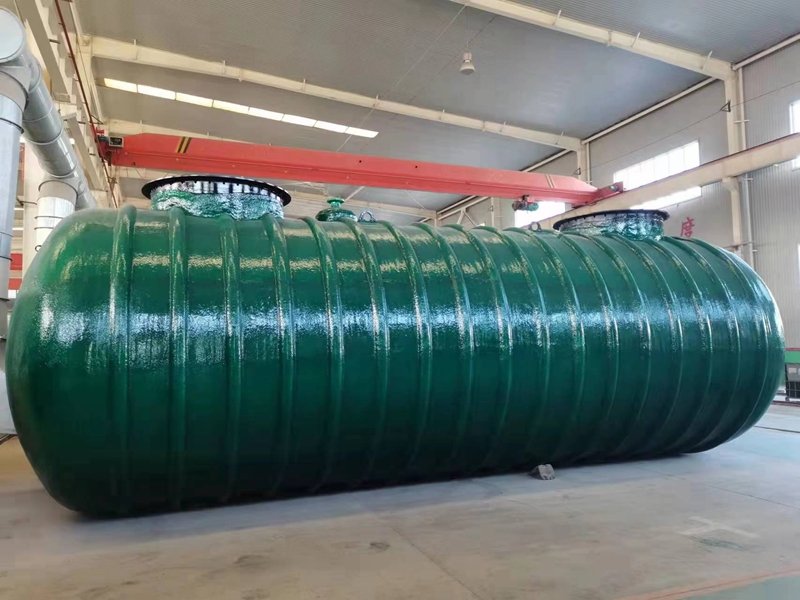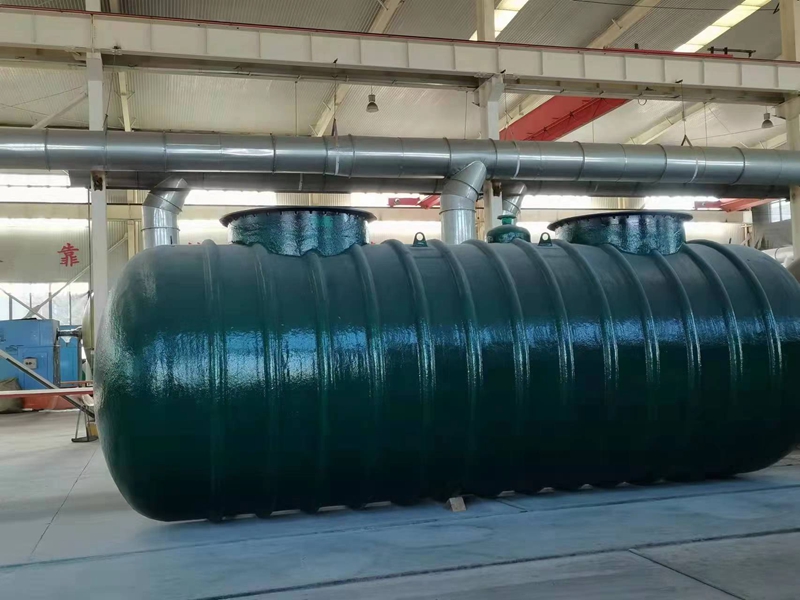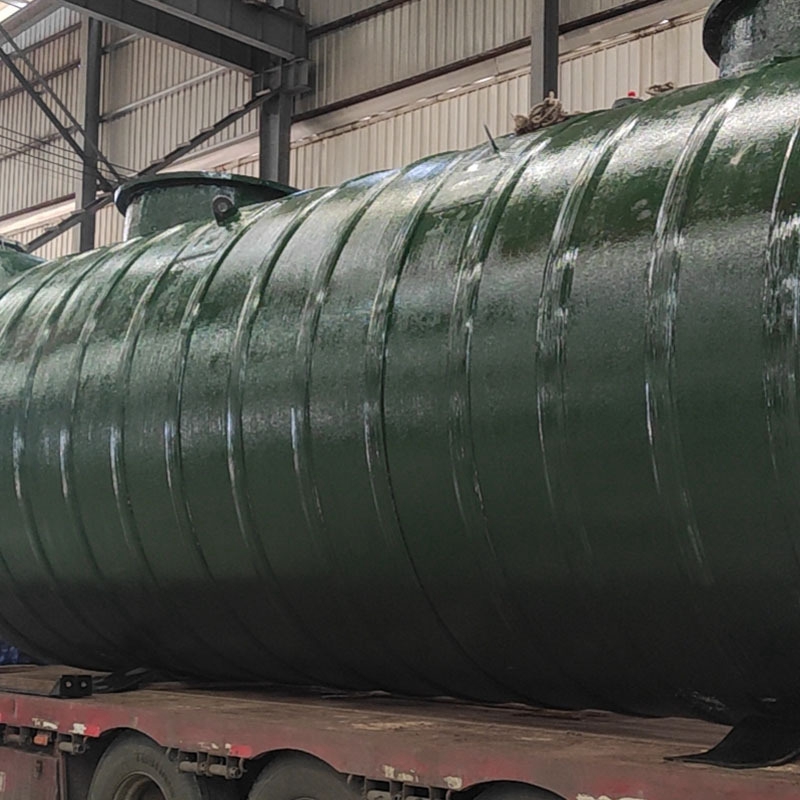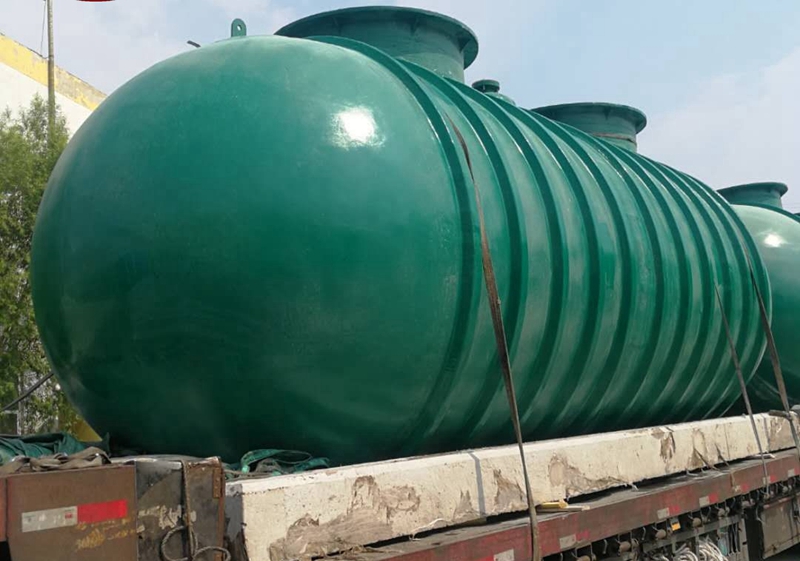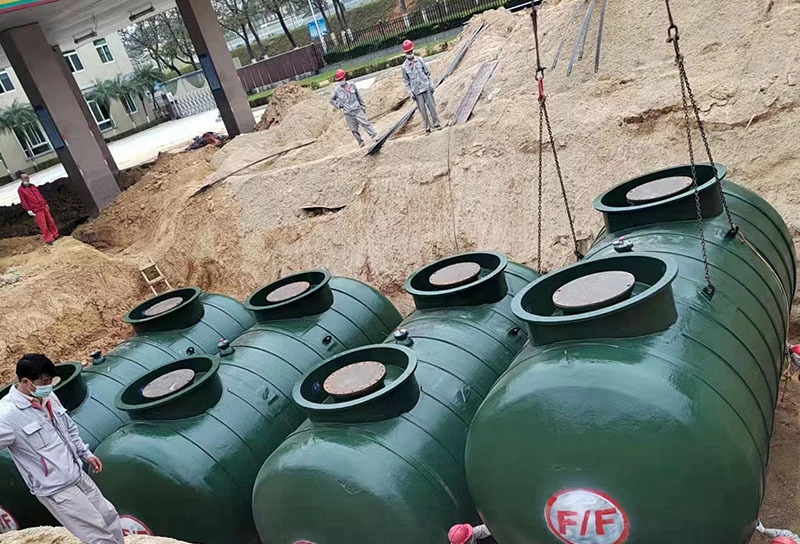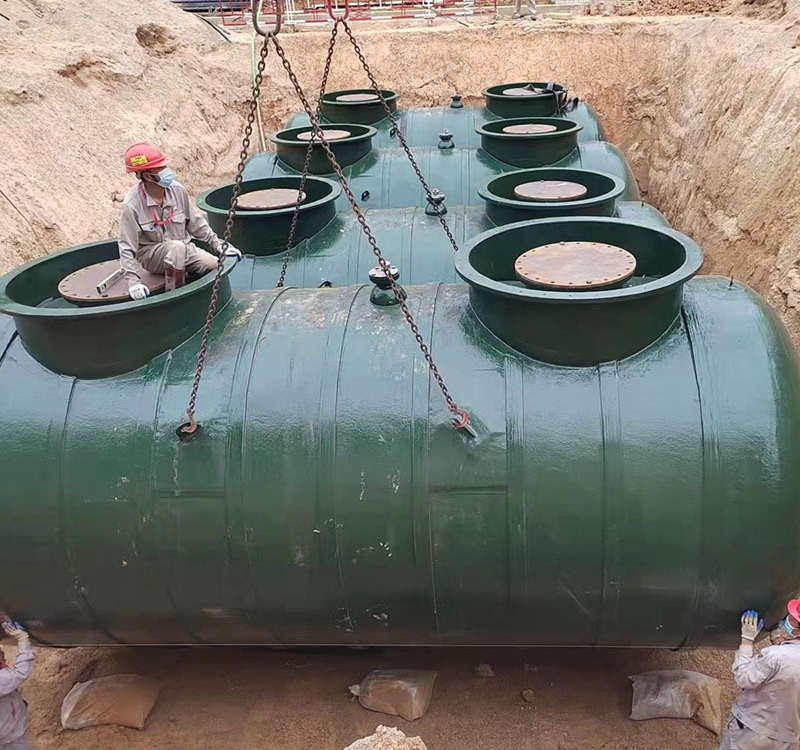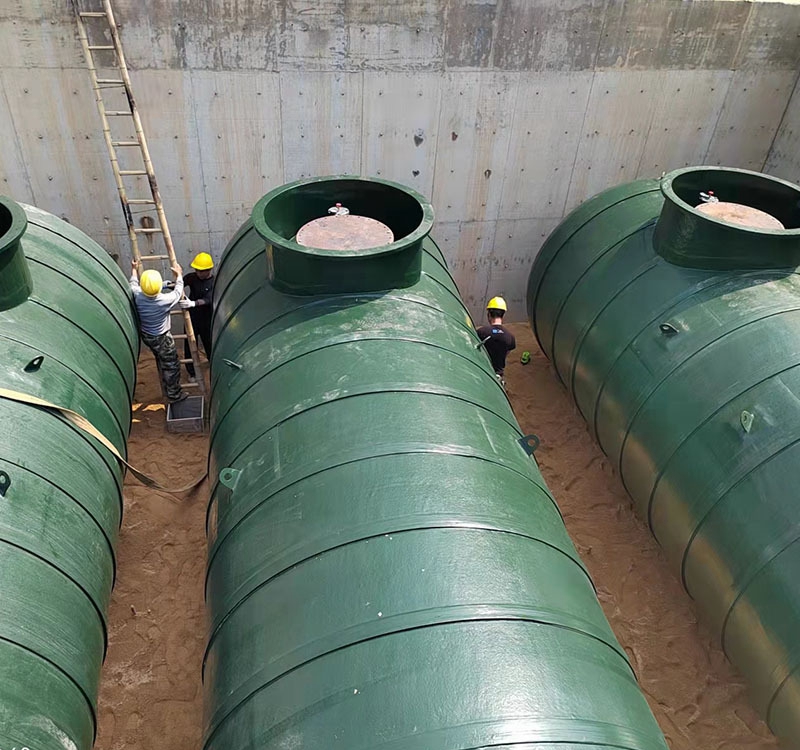 General Characteristics Of FF Double Wall Underground Fuel Containment Tank:
1.Both the inner wall and outer wall are made of reinforced glass fiber
2.The tank body has a uniform interlayer space and is equipped with a leakage detector connected to the interlayer space
3.This type of oil tank has the characteristics of good anti-corrosion performance, light weight, convenient installation, and obvious economic benefits for long-term use
4.The two have the same structure, but the difference is that the SF underground double wall tank is made of steel, while the FF double wall tank is made of fiberglass
5.Due to process issues, compared to SF double wall tanks, the construction cost of FF double wall tanks is high, resulting in a lower market share than SF underground double wall tanks
Product Features:
1.Having all the characteristics and advantages of fiberglass tanks
2.Resin is UL labeled and approved in the United States
3.30 years corrosion resistance guarantee
4.30 year structural strength guarantee
5.Zero leakage, each tank has undergone air pressure leak proof testing
6.Zero defects, each tank undergoes ultrasonic side thickness, hardness testing, component analysis, chemical and physical experiments
7.The double wall sandwich automatic detection system operates 24 hours a day. If there is any leakage, it can immediately alarm and carry out emergency repairs to prevent pollution of underground water sources and soil


FF double wall oil tank is currently a commonly used measure in foreign gas stations to prevent underground oil tank leakage. The transition process and trend are: single wall tank - double wall steel tank (also known as SS underground oil tank) - inner steel plus outer glass fiber reinforced plastic (FRP) double wall tank (also known as SF underground storage tank) - double wall glass fiber reinforced plastic (FRP) oil tank (also known as FF underground storage tank). For the renovation of buried oil tanks used in gas stations, North America, the European Union, and other countries are adopting the transition period of double wall oil tanks. In order to reduce the loss of replacing double wall oil tanks at existing gas stations, lining technologies such as glass fiber reinforced plastic that meet the strength and anti-seepage requirements are allowed to be used to replace double layer oil tanks. Hong Kong, China, also adopts this renovation technology.
Due to its two layers of tank walls, double wall oil tanks have a dual safety effect in preventing oil tank leakage. In addition, foreign standards require online monitoring and manual detection of the gap between the two layers of tank walls in manufacturing. Whether leakage occurs in the inner wall of the tank or the outer wall of the tank, it can be detected within the through gap, thereby avoiding the entry of leaked oil into the environment, polluting soil and groundwater.
The double wall oil tank made of inner steel and outer glass fiber reinforced plastic is composed of a double wall tank with an outer wall of glass fiber reinforced plastic (i.e. glass fiber reinforced plastic) anti-seepage jacket on top of a single wall steel oil tank. This type of tank not only has the common characteristics of double wall tanks, but also has a longer service life than steel tanks that come into direct contact with soil due to its superior soil and chemical corrosion resistance of the outer glass fiber reinforced plastic tank body compared to steel tanks.
The double wall glass fiber reinforced plastic oil tank, with both the inner and outer wall belonging to the glass fiber reinforced plastic tank body, is superior to the oil tank with a metal tank body in terms of resistance to internal and external corrosion. Therefore, this type of tank may become the main promotion product for underground oil tanks in gas stations in various countries in the future.
50,000 L
65,000 L
25,000/25,000 L
25,000/40,000 L
15,000/35,000/15,000 L